Neža, tell us, how did the spirit of adventure call to you?
I've been travelling since I was little. When I was still a baby, my family visited mostly Croatia, but later joined a group of motorhome enthusiasts, which urged us to start exploring new corners of the world. Travelling is really deeply embedded in me. All this discovering and exploring new cultures, hidden places and endless sandy beaches truly makes me happy. A huge thank you to my parents who have shown me this magical world of travel.
Since I travel mostly by motorhome or a small van, I rarely end up on a plane. And when I do, I feel some kind of pleasant excitement. Not something I would call fear.
Which countries and destinations have you been to and which ones would you still like to visit?
The neighbouring Italy is my favourite and I've been to Tuscany and its cities (Florence, Pisa etc.). The Cinque Terre is one of the most beautiful destinations, in my opinion. It's an area the comprises gorgeous and genuine coastal Italian villages. Another location that's closer to my home, yet still an excellent location, is Lake Garda. And for all the mountain enthusiasts, there are the Dolomites.
Apart from Italy, I also love Spain. It has a special place in my heart, since Ibiza was the location of my first European Long-Distance Championship. A year later, my partner and I visited the gem that is known as Mallorca. Portugal (the city of Porto and the village of Mindelo), too, is worth visiting. We were there last year, just before the first quarantine started.
I've also visited all the neighbouring countries (Austria, Croatia, Hungary), France (Corsica, Paris), the UK (London), Germany and a few Balkan countries. I also like to travel around my home country, Slovenia, on weekends. My greatest wish is to visit America. Some of the cities and national parks. I believe the right time will eventually come for that as well.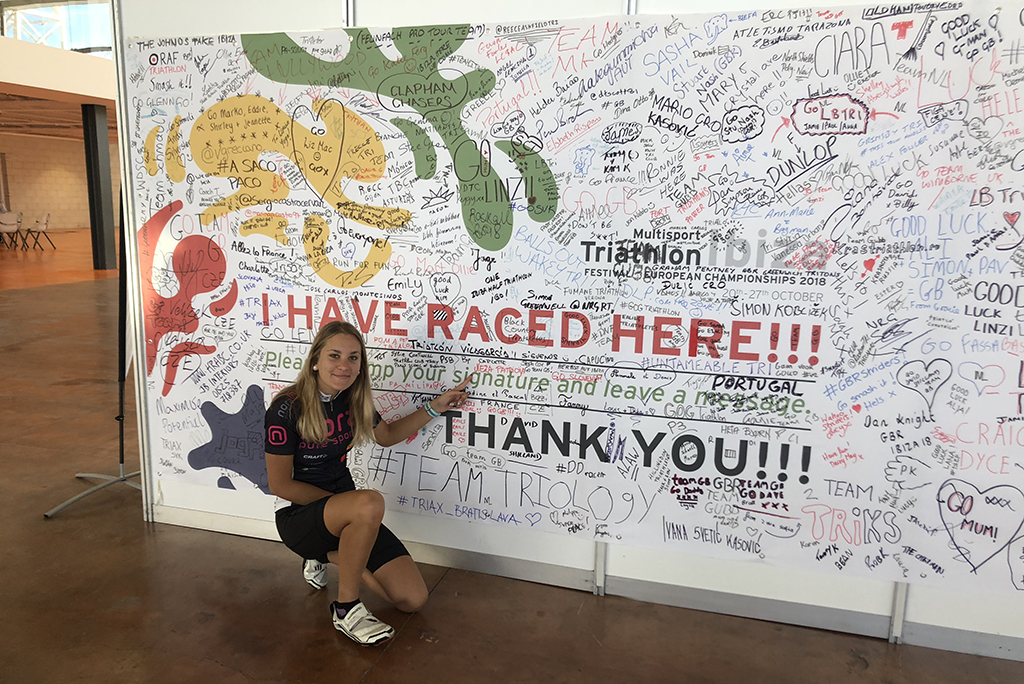 How do you plan your trips?
I plan my trips alone or with Blaž's help. I never opt for a travel agency because I think the beauty of travelling is in planning, reading travel blogs and, ultimately, winging it while you're travelling. We usually have an approximate plan of what we'd like to see and of the route, but that's all. In one word, spontaneity.
I travel with my partner, Blaž. But we often also join my parents or spend the weekend with our friends who are motorhome enthusiasts.
How did you end up in Corsica?
That was quite an interesting adventure. Our plan was to visit the Dolomites and mostly Livigno, but then, some nice afternoon on a beach in Krk, we had a discussion with our friend who happened to mention Corsica. Blaž's eyes suddenly lit up and I knew right away that that meant a change of plan. And so we just happened to decide to visit Corsica. We booked a ferry a week later, made an approximate plan of the places we wanted to visit, and ventured out into the unknown.
Corsica is still pretty wild. It's full of tourists (we were lucky, since a lot of tourists were put off by the coronavirus), yet still authentic. Let's say it's still the way Croatia was like 20 years ago. The terrain is pretty hilly and therefore suitable for hikers. We've seen the whole island – from the city of Bastia, we headed to the western coast and then to central Corsica, continued all the way to the south and then back to Bastia along the eastern coast. We visited some of the large cities and quite a few beautiful, long and sandy beaches. Since Corsica is quite well known for its hills (87% of the island is covered by hilly terrain), we also visited the most famous lakes, Lac de Melu and Lac de Capitellu. We also visited Corsica's southernmost point, the city of Bonifacio, and much more.
We travelled in our Caddy, which is the main star of our Caddy Adventures blog (a half-joke, really [laughs]). We slept in camps and, on few occasions on a beach, since Corsica is some kind of paradise for wild camping. As for our Caddie, it's been transformed into a mini motorhome with a quality bed, a small kitchen, an area for a fridge and luggage drawers. We've got all the stuff the big guys have (laughs).
I often say that Corsica is like a mountain in the middle of sea or a place where cows and pigs roam freely on roads. These are probably also the two things that'll always remind us of Corsica.
Did you try a traditional dish? What did you think of it?
Of course. We tried the local wine, cured meat and cheeses. They were great! We also realised that pizza was the traditional food in Corsica. Really, and I mean really every camp has a pizza restaurant. Of course, we couldn't resist. By the way, the best pizza we had was in Paduella camp in Calvi. You can also see roasted chicken at every other step. Of course, we tried that as well.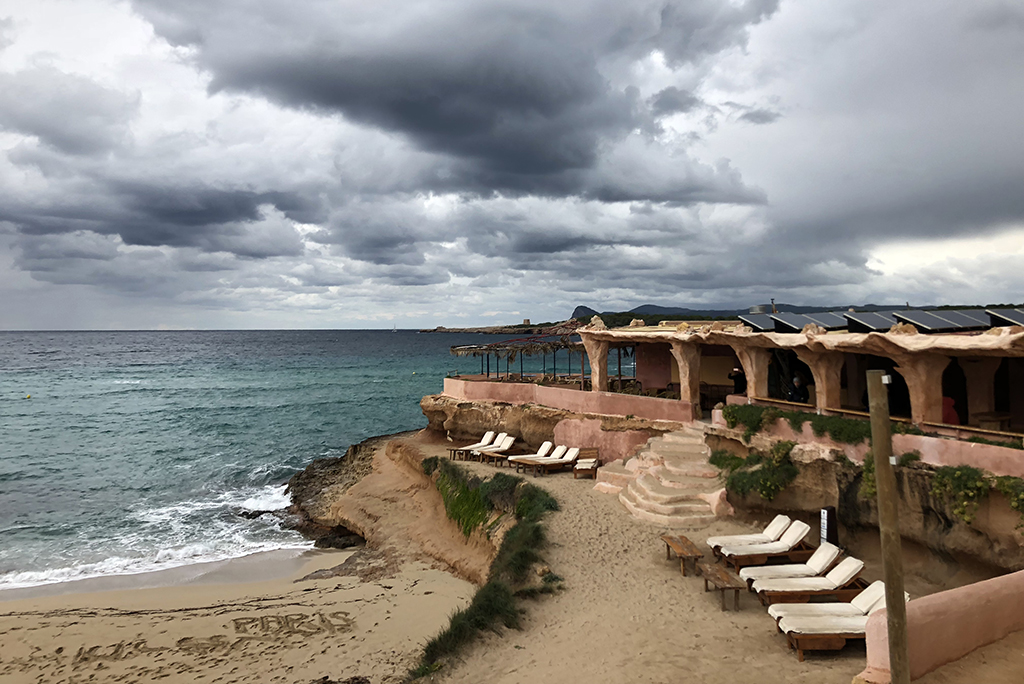 What's the life of a motorhome enthusiast like?
I feel like motorhoming has spread considerably in the last few years. Especially now, during the coronavirus pandemic, since it's probably one of the safest forms of holidaying. But I still think motorhoming isn't for everyone because simply buying a motorhome can be quite a financial undertaking. Maintenance can greatly add to all that, as can all the trips you make. If you have a motorhome, you need to take advantage of it. It's true that camping is quite cheap off-season. But if you want to go holidaying in our neighbouring country in the south, the holidays will cost you a lot. It's also meaningless to compare living in a motorhome with living indoors. These are two completely different ways of holidaying or, should I say, ways of life. If I tried really hard, I'd naturally say there's no comparison because there's no indoor accommodation that would offer an authentic pine tree fragrance and the calming sound of the sea before going to bed.
Blaž and I are also part of the motorhome family. It's 12 years since my family and I entered the world of motorhoming. Once you're in, there's no way back. The adventurous spirit gets a strong grip on you and the world of travelling and discovering new places on Earth becomes deeply embedded in you. And so I dragged Blaž into the world of travelling as well. Later we caught sight of the Caddy on one of our weekend trips, and it was transformed into a mini motorhome. It was love at first sight. We went on a hunt for Caddy and went through a few months of converting, and then our family finally entered the world of motorhoming. I think we're free-roaming nomads, in a way. You definitely can't be too attached to your home. You need to be relaxed and flexible, and the world of travel definitely needs to be on your priority list. You have to be resourceful, since there are often or, should I say, almost always some unexpected obstacles that come your way while travelling, and they quickly turn into comical experiences. Being a motorhome enthusiast is a way of life and it doesn't just mean waiting for the main holidays, but also spontaneity and enjoying every moment that life offers you. I would advise every beginner who's tempted to enter the world of motorhoming to just go with the flow. They should try it out and they'll quickly find out if it's the way of life that's suitable for them.
Did you have any silly experiences along the way?
There are always some silly experiences on each trip. Of course, there were lots of unpleasant and other moments. We ended up without a camp a few times, a tube burst on Blaž'š bicycle twice in two days, and then there were free-roaming cows that blocked the road and didn't move at all. We didn't even consider that it was forbidden to enter the car during the ferry ride to Corsica. We ended up without food and drinks (which we prepared in advance) for four whole hours of the ride to Corsica (a nice move on our behalf). After almost half a year we also got a parking ticket in Pisa, a city we visited before boarding the ferry. There are so many experiences, but that's the beauty of travelling, isn't it?